COVID-19 Update & Policy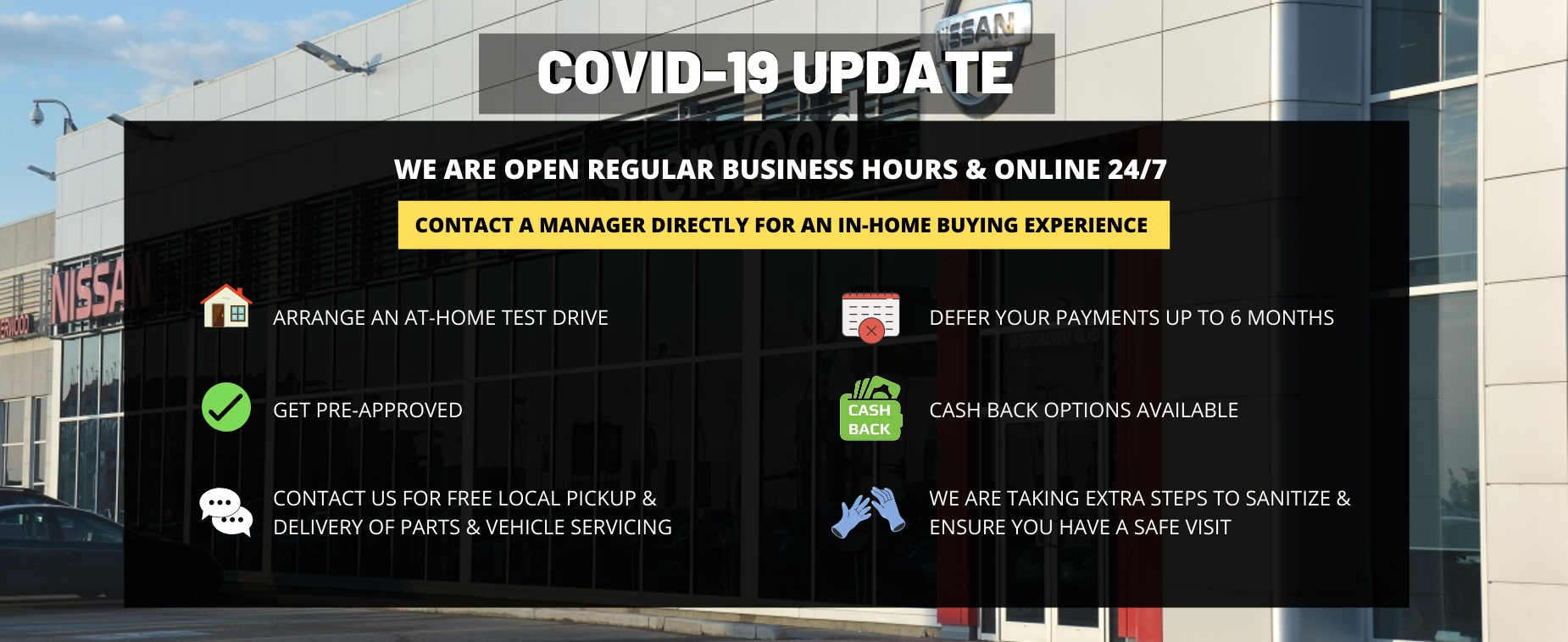 Here are some stress free car buying tools
Finance
Thank you for considering Sherwood Nissan, especially during these times. To help you through the ongoing COVID-19 situation, we invite you to speak with one of our team members to learn more about our financing program which lets you receive up to three monthly payments on us.
Apply
Home Service
We understand that coming to a dealership may not be something you are comfortable with in these uncertain times. So we're offering to arrange an At-Home test drive, where we will bring you a sanitized vehicle and pick it up when you're done at your convenience.
Contact Us
Delivery
Essential workers still need to have a safe, reliable vehicle so they can get to their jobs. We want you to contact us for free local pickup & delivery of parts & vehicle servicing. If you are unable to get out but still need to get parts, this is a great way to get them.
Contact
Supporting Our Sherwood Nissan Staff
We continue to share information with associates on how to keep themselves and their families safe and healthy. Anyone who feels sick must stay home in order to help prevent the spread of the virus. In addition, on-demand communication has been made available to answer our staff's questions and concerns.
---
Preventative Tips for Outings
Carry your own hand sanitizer or disinfectant wipes
Wash your hands in our sanitized restrooms with soap and water for at least 20 seconds
Avoid touching your eyes, nose, or mouth with unwashed hands
Please stay home if you are sick
When coughing or sneezing:
Cover your mouth and nose with your arm or tissues to reduce the spread of germs
Immediately dispose of any tissues you have used into the garbage as soon as possible and wash your hands afterwards
Additional Information & Resources
Service Hours
780-449-5775
| | |
| --- | --- |
| Monday | 7:00 am - 5:00 pm |
| Tuesday | 7:00 am - 5:00 pm |
| Wednesday | 7:00 am - 5:00 pm |
| Thursday | 7:00 am - 5:00 pm |
| Friday | 7:00 am - 5:00 pm |
| Saturday | 9:00 am - 1:00 pm |
| Sunday | Closed |
Testimonials
GOOGLE
7-7-2020
GOOGLE
7-6-2020
GOOGLE
7-5-2020
GOOGLE
7-5-2020
GOOGLE
7-5-2020
GOOGLE
7-1-2020
GOOGLE
6-25-2020
GOOGLE
6-24-2020
"Okay, this experience was like a breath of fresh air..."
DEALERRATER
6-23-2020
GOOGLE
6-22-2020
GOOGLE
6-22-2020
GOOGLE
6-22-2020
GOOGLE
6-21-2020
GOOGLE
6-20-2020
GOOGLE
6-20-2020
GOOGLE
6-20-2020
GOOGLE
6-19-2020
GOOGLE
6-17-2020
GOOGLE
6-17-2020
GOOGLE
6-17-2020
GOOGLE
6-15-2020
GOOGLE
6-15-2020
GOOGLE
6-14-2020
GOOGLE
6-14-2020
GOOGLE
6-13-2020
GOOGLE
6-12-2020
GOOGLE
6-11-2020
GOOGLE
6-10-2020
GOOGLE
6-8-2020
GOOGLE
6-8-2020
GOOGLE
6-8-2020
GOOGLE
6-7-2020
GOOGLE
6-6-2020
GOOGLE
6-5-2020
GOOGLE
6-5-2020
GOOGLE
6-4-2020
GOOGLE
6-4-2020
GOOGLE
6-3-2020
GOOGLE
6-3-2020
GOOGLE
6-2-2020
GOOGLE
6-2-2020
GOOGLE
5-31-2020
GOOGLE
5-31-2020
GOOGLE
5-30-2020
Read More